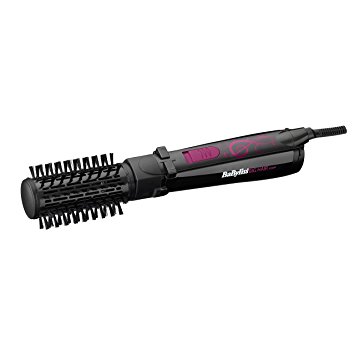 The BaByliss 2777U Big Hair Rotating Styler is a hot air styler that comes with a two way rotating brush. It is used for adding volume to hair and shape to fringes, short hair and layered hair. The barrel is ceramic with soft bristles which create smoothness and shine in the hair. The styler is also equipped with 2 heat settings along with a cool option.
List of Features
a) Has a 42 mm rotating barrel with soft bristles.
b) Multi-directional brush which rotates both ways.
c) Has 2 heat settings and 1 cool setting.
d) Comes with 2 rotational speeds for total control.
Pros –
a) Large rotating barrel gives good volume and shape to hair.
b) You can choose between 2 heat settings and a cool setting for your hair.
c) Ceramic body with soft bristles give smoothness and shine to hair.
d) Comes with a protective cover that protects you from the heat.
e) Clockwise and anti-clockwise rotation of barrel helps in getting different styles.
f) Can also be used for hair drying purposes.
Cons –
a) Hair gets tangled up if you press the wrong button.
b) Not suitable for shorter hair due to large barrel size.
c) The barrel doesn't rotate on the cool setting mode.
d) The bristles are soft and become bent and go out of shape after a few uses .
Overall Review – This product is great for styling purposes due to it having many features which give total control to the user. It also dry's the hair therefore there is no need to blow dry but a little maintenance is required as you need to straighten the soft bristles after a few uses.
Price: £40.00