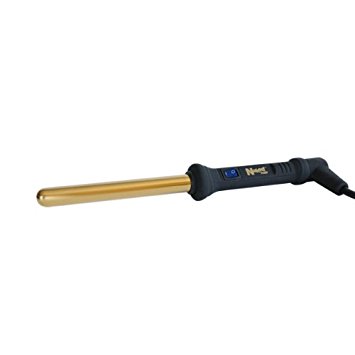 Our Gold Titanium Range offers an enhanced experience for those who want to really maximise their styling.
For even better performance our Gold Titanium barrel offers one of the best curling experiences available today.
Designed for the high-end premium market, the ultra-smooth polished surface of gold and titanium allows for perfect heat distribution, leaving your hair looking great and feeling soft and silky.
The unique properties of gold and titanium give you unprecedented levels of control so you can style your hair in confidence. And of course – the Gold Titanium range also offers all the benefits of our standard Naked Hair models.
Our clipless design lets your hair flow naturally and PermaStyle technology invigorates your hair using negative ions to reduce static. All the heat generated is in the far infrared range to ensure your hair needs minimum effort to hold it in shape.
Naked Hair's product range has been specially designed to heat-up faster than traditional styling irons and hair curlers, giving you more time to style at your leisure.
But how does it actually work?
It's all down to our innovative ceramic heating elements and unique PermaStyle technology.
Our technicians use Nano Silver Tourmaline to create a super-smooth finish which gives you a faster, more evenly distributed and controllable heat. The result is a hair-care range that heats up more quickly but never over-heats in one spot – maximising styling ability whilst minimising the risk of damage to your hair.
We looked at the entire design process of our kit, not only giving the range a fresh, funky look but completely redesigning it component by component. From our ceramic heating elements to the micro-polished surfaces, every single aspect of our range was designed to improve your hair styling experience.