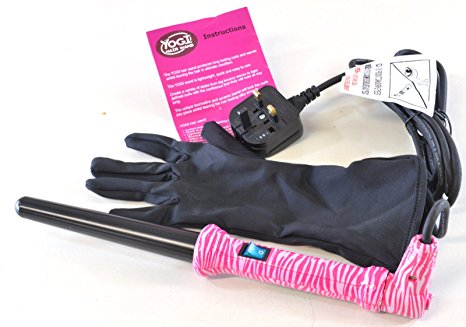 The YOGI locks wand creates a curl that can't be acheived with classic irons or curlers. You may create a range of hairstyles from big bouncy waves to tight defined curls, with the confidence that they will hold 24 hours a day.
The YOGI wand is lightweight, simple to use, and creates perfect YOGI curls in secs.
5 Easy steps to generate perfect curls:
1. Get a section of the locks (the smaller the section the tight the curl, the larger the section the looser the curl)
2. Holding the end of the sectioned hair, area the wand near to the root (be watchful not to touch the head) and wrap this section of locks around the wand.
3. Keep the locks in this place, tightly towards the wand for approximately 10 just a few seconds.
4. Gently pull the wand out of the curled section of hair making sure that you continue to hold on to this end of the hair.
5. Release the hair and achieve your ideal Yogi curl.
Why choose Yogi?
No Cold Tips. Our design increases the amount of bad ions produced and therefore permits the curls to last for a more time period of time. (cold tips can reduce shine and hold)
Barrel Heat range. Our advanced technology, allows our wands to create perfect waves at a relatively low temperature also on the most difficult to wave hair. The barrel heats up to one hundred sixty degree C in seconds. Because of this unique barrel the Yogi magical wands will lock the waves and curls into place but will leave the hair with an ultimate shine end.
Smooth Design. We intentionally created our wands without any protruding edges, clamps or stands so that the hair does not catch or snag when styling.