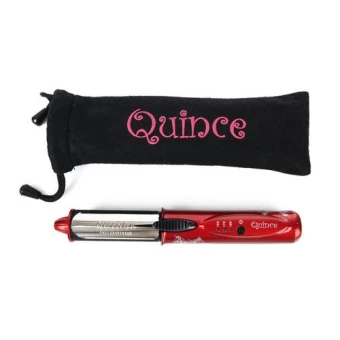 Keep your hair in great condition.
With a 19mm ceramic barrel, the Nicky Clarke tong reaches a temperature of 220C and has 7 different heat settings to help you control the heat and select the setting that best suits your hair and your style.
Negative ions and Far Infrared Rays help lock-in moisture in your hair, preventing high levels of heat damage caused by most styling tools.
Digital display with 7 heat settings for ultimate temperature control.
19mm medium-sized Tourmaline barrel for perfectly smooth spirals, curls and waves.
Ceramic coating to add shine and protect hair from heat damage.
Variable temperature – adapts to your specific hair needs for ultimate control with 7 temperature settings.
Maximum temperature 220C.
15sec heat-up time.
Stay cool tip for safer use.
Package will be shipped with Expedited shipping Service which is FedEx in Economy shipping price. The Price is including import TAX, VAT and customs handling charge.
Quince wireless curling iron is more practical especially outdoors. It is quickly preheated without wires.
Keep your hair stylish even outdoors.
Patent about Silicone Heating Barrel (Heater & Plate in one)
This cordless curling iron is in a compact size and light weight. Anyone can carry it anywhere to use
anytime. This high-tech mini curling hair iron can reach 180 degree with only one battery cell and about
30 Min. working time. The best to make curling hair as a portable item.

Comfortable to Grip
The ergonomically designed fits in a hand. And the hair pins and cooling tip make it easy for you to style
hair.
Led Display
The Led display indicates the battery condition and temperature.

Heat Controller (3 heat settings) Low 160ºC (320ºF) Medium 170 ºC (340ºF) high 180ºC (356ºF)
Quince wireless curling iron that is petit enough to be kept in a bag makes you stylish at any time and
everywhere.
The anti-heat pouch for curling iron is provided for your safety
Model : BB-04B
3 heat settings : Low 160 ºC (320 ºF) Medium 170 ºC (340 ºF) high 180 ºC (356 ºF)
Power consumption : 15W
Battery: Lithium-ion battery
Rated voltage: 100V~240V / 50Hz
Charging Time : About 2 hours 30 mins
Working Time : about 30 mins
Package
Styler, Anti-heat pouch, Battery, Charging adaptor
How to use