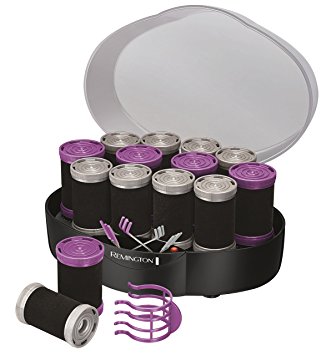 Price: £24.99
When it comes to styling your hair what every woman wants is a hair curler second to none. Getting ready for a night out on the town or a hot date can be very stressful for a woman if she has a low quality hair device.
The Remington H0747-Jumbo Curl Rollers provides you with lots of volume to ensure that your hair is extraordinary. The set of 12-rollers are infused with conditioning to maintain the shiny healthy hair. The wax cores keep the rollers in place so curls come out beautifully.
List of Features
• Set of the12 soft, easy-grip jumbo hair rollers in two different sizes
• Wax core keeps heat in so curls set quickly
• Infused conditioning for a healthy smooth look
Pros
Rollers help keep hair healthy with conditioning. Hair can set quickly while you cook or get ready instead of standing in front of a mirror.
Cons
The product appears to be ineffective when it comes to fine hair; complaints were that the rollers were too heavy for fine hair.
Overall Review
The rollers are easy to use and make curling convenient. The added conditioning will only benefit your hair. Despite the complaints it's a good value.