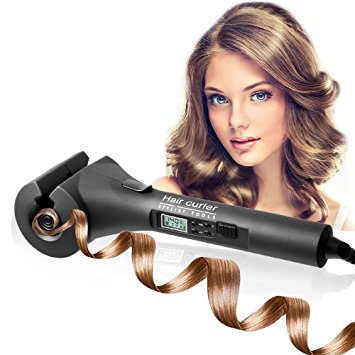 Topiaukstore PRO Perfect Curl. Effortlessly create beautiful long-lasting curls. Featuring revolutionary new patented technology. Hair is automatically drawn into the ceramic curl chamber where it is softly held and heated from all directions. It comes with brushless electric machine inside so the curl is finished quickly and silently. The life of it is longer than brush electric machine, lower maintenance costs and lower interference.There is a sensitive detection device inside to avoid hair gets tangled and with beeps promote.
Always after hearing four sounds of beeps alarm then to release the tension.
First sound of beep means curl is finished but BE AWARE TO WAIT THE TIME YOU HAVE SET then you will hear four sounds of beeps then that's finalized. It's still in stereotypes after the first sound of beep. It's very easy to use. Topiaukstore will let you know when it's ready to use and when you can release the handle.
Using Warm Tips
Fristly, ensure that your hair is clean and dry. Comb your hair straight and then put a strand of hair no more than 3cm wide into the ceramic curl chamber slot.
Use your thumb to press the curler and then after hearing four sounds of beeps to release it and pull out the hair accordingly. It's very easy and safe. Be sure that the positive and front of the display is facing you when you are doing the curl. (IMPORTANT) If you are doing it in a wrong direction then it will get jammed.
Get a quick watch on how to use this product here:
https://youtu.be/gX6ZGqGWDas
Package Contents:
1 X automatic steam hair curler
1 X Cleaner
1 X Manual User.