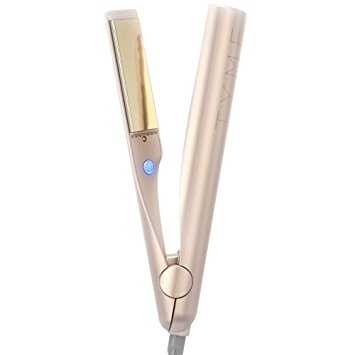 The best hair straightener is the one that gives you a good hold on your hair, and that does not cause any damage to your hair. Hair is always a bit fragile and if you use the best of products then it will last longer, will look healthier, and will be more manageable overall. If you want to achieve sleek, pin-straight hair, a high-quality hair straightener should be in your beauty arsenal. A hair straightener, also known as a flat iron, smooths the follicle of your hair between two heated plates.
Some hair straighteners can even do double duty, creating loose waves and curls without the frizz.
The HSI Professional hair straightener
Starting off with the best overall hair straightener we have the HSI Professional hair straightener. While it may not be one of the familiar names in hair styling the HSI Professional hair straightener goes to show that an unfamiliar brand name doesn't always mean less quality. It's much cheaper than many of the high-end hair straighteners, but this flat iron still provides great results.
It's highly reviewed on Amazon, holding the number one spot on the bestsellers list in the Hair Straightening Irons category. It can make your hair sleek and straight, but its 1-inch plates also allow you to curl and flip your hair for added versatility, so you can change up your look with one styling tool.
The plates of the HSI Professional are made of solid ceramic that is infused with tourmaline. The combination allows for consistent temperature and gives hair a smooth finish. The wide range of heat settings, starting at 140 degrees Fahrenheit and going up to 450 degrees Fahrenheit, gives you more control over styling and makes this an ideal straightener for multiple hair types.
Those with fine hair can keep the straightener at a lower temperature, while those with thick hair can increase the temperature to ensure they'll walk away with the same smooth results. No matter your hair type, the floating plate design and the curved edges of the plates themselves prevent any snagging or damage so your hair will glide through smoothly.
Reviewers like Meghan are happy with the cord length, and like the fact that the cord "doesn't get tangled and is long enough so you have a lot of room to work." The lack of tangling is thanks to the 360-degree swivel feature, which allows the cord to rotate as you move the straightener around your head.

If you plan on doing some traveling, this flat iron has a worldwide dual voltage of 110-220 volts so you won't fry your hair straightener (or your hair) if you plug it in abroad. The HSI Professional doesn't have an automatic shut off, so you'll have to remember to shut it off when you're finished styling.
Some reviewers also complained about the placement of the controls, as they're on the inside of the handle instead of the outside, making them a little harder to view and adjust. This isn't necessarily a complete negative, though, since it prevents you from accidentally changing the temperature.
Despite these downsides, the HSI Professional comes with plenty of positives, including extras not often found with other hair straighteners. Along with the straightener, you'll receive a carrying case, a heat-resistant glove for easier hair styling, a style guide, and a travel-size argan oil leave-in hair treatment serum to smooth and protect your hair.
This is more than most high-end hair straighteners come with, all for a fraction of the price. The question is, does it live up to all the hype? There are more than 30,000 reviews on Amazon, 70% of these reviews give a 5-star rating, and 14% give a 4-star rating. According to the numbers, the HSI Professional truly is a high-quality product that is well-deserving of the attention it's been given. Buyers love how quickly the HSI Professional heats up, what it does for their hair, and how easy it is to use— even on short hair.


GHD Gold professional
Next up we have the best high-end hair straightener which goes to the GHD Gold Professional styling iron. The GHD brand is a favorite among celebrity hair stylists because of its reliability and shiny, frizz-free results.
Just because you aren't setting foot on the red carpet anytime soon doesn't mean that you can't have celebrity quality hair. The GHD Gold professional makes it possible for you to achieve shiny and frizz free results at home, so you can feel red carpet ready even if you're just grabbing coffee with friends.
This is a high-end hair straightener often used by professionals, and the $199 price reflects that. However, if you're willing to pay more and you'll be using this tool often, the GHD Gold is a worthwhile investment for your hair that will last. While temperature control is typically a good thing to have in a hair straightener, it can also result in hair damage if you're keeping the temperature too high.

The GHD Gold eliminates the chance of any user error, operating at an even 365 degrees Fahrenheit. This is the optimal temperature for most hair types, getting you smooth results without damaging your hair. The gold coated ceramic plates heat up quickly and maintain an even temperature, eliminating the chance for any hair damaging hot spots as well.
The floating plates are contoured with smooth edges, so you won't have to worry about your hair snagging as you're styling. If you have thicker hair, you may want to consider the 2-inch plate option, which will cover more surface area and help you style your hair more quickly. However, if you'd rather have the versatility of being able to curl and flip your hair as well as straighten it, we'd recommend the classic 1-inch plate.
If you travel abroad often, you won't have to worry about ruining your investment, either, because the GHD Gold has universal voltage. It also features a generously long 9-foot cord with 360-degree rotation to prevent tangling. The automatic sleep mode shuts off the straightener if it hasn't been used in 30 minutes, so you'll have peace of mind if you forget to shut it off in your morning rush out the door.
If something does go wrong, the GHD Gold comes with a 2-year manufacturer's warranty. Most reviewers on amazon love the GHD Gold, praising how quickly it heats up, how it makes their hair feel, and how long this tool has lasted them. Some reviewers did feel that it was too expensive and didn't like the lack of control they had over the temperature setting.
While those with very fine hair may find the 365-degree setting too hot, the lack of different settings, in this case, is to help prevent hair damage. The price is steeper than some, but it's also a straightener that's built to last, which helps justify the price. Reviewer Lauren says, "I started with the GHD Classic and upgraded to the Professional one and it's definitely my favorite! Worth every penny and very long lasting.


Xtava Pro Satin Infrared flat iron
I've had them both for years and both work great still." Next we have the best hair straightener for thick hair which goes to the Xtava Pro Satin Infrared flat iron. For those with thick hair, the idea of "quick styling" often feels like an impossible dream. It's usually easier to use the "throw it up and go" technique to get out the door in time.
However, straight, sleek hair doesn't have to be a luxury reserved for those with fine hair, especially when you have a styling tool designed to tackle even the thickest, curliest hair like the Xtava Pro. This straightener has double wide plates to cover more surface area in less time. The infrared technology allows for fast, even heating that starts at the inside first, and is sustained by the solid ceramic plates.
These plates are coated with tourmaline to help reduce frizz and leave you with a sleek, shiny finish. Now that you know what the Xtava Pro is capable of, it's worth running through the features that make those results possible. Along with the solid ceramic plates for even heating, there are 10 temperature settings to choose from for optimal styling control.
The temperatures are shown on an easy to read digital display and range from 265 degrees to 445 degrees Fahrenheit. It's important to remember to start with a lower temperature first, and only increase heat as needed to prevent hair damage. The 90-second heat up technology will get you styling in no time, and when you're finished, the straightener can be stored in its heat-resistant travel case.

Speaking of traveling, if you're planning on going abroad, the dual voltage plug will allow you to use your hair straightener wherever your final destination may be. The 8-foot, 360-degree swivel cord will also give you ample room for styling as you tame your tresses, and prevent any frustrating tangling from occurring.
If you're in a hurry and do forget to shut this straightener off — not to worry — the automatic shut off feature will power down the Xtava after 60 minutes. For extra peace of mind, if something does go wrong, the Xtava comes with a 2-year warranty and money-back guarantee. With all these features, you would think that this hair straightener would be far more expensive, but it cost about $40.
There are few downsides to the Xtava. Its wider plates make it a little less versatile, as it isn't designed to curl or flip hair. Some reviewers also complained about the awkward placement of the control buttons, which can make it easy to shut off if you aren't paying attention to how you're holding on to the straightener.
While the lack of versatility could be a negative for some, there is a "lock" option that provides a solution to the button placement and will prevent you from turning off the straightener on accident. Most buyers were happy with their purchase of the Xtava, loving how well it worked on their natural hair, how quickly it straightens and cuts down on style time, and the extra features like the heat resistant bag.


Everyone should be able to have straight, sleek hair as a style option no matter their hair type, and it's well-designed styling tools like the Xtava Pro Satin that make it possible. So that sums up our top hair straighteners of 2021.
Source Link: https://www.youtube.com/watch?v=uTgGoieSR4U